If English is not your native language then you best start learning it because being an international language it is also a necessity to survive in this fast paced and internationalized global economy. You will need to improve your English even for the most basic everyday tasks like ordering online or traveling by airplane. It is absolutely essential and without it your options would be severely lessened. Imagine how much less work opportunities you will have compared to another contestant that will compete with you in a work interview.
The good news is that you do not need a private tutor as There are plenty of apps and word games available out there, which are very helpful in allowing you to improve your dictionary and learn new words intuitively so that you will not forget them easily. We have hand picked a few of those apps and games which we believe to be some of the best ones for this purpose.
1. 7 Little Words
Crossword like games have always been a very intuitive way to learn new words effortlessly. 7 little words is a crossword like game app but much simpler and very easy to get a accustomed to. On each puzzle you have seven clues, seven words to figure out and 20 total letters. Your goal is to find these words using dhe clues and the letters on the board that are available to you.
How to play Seven Little Words
Find the 7 words to match the 7 clues.
Find the 7 words in any order.
There is no penalty for a wrong guess.
There is no time limit.
2. Word of the Day
This game/quiz is a slow paced one and perfect for beginners and it will definitely help you learn new words better as it doesn't rush things. It makes sure to make you memorize a word in a contextual manner. The word of the day is a new word that appears each day as you can guess.
Word of the day has the ability to let you set a daily reminder / notification , set a female or male speaker voice and also let you choose your target English accent for example if you want a British accent you can select UK or if you prefer the United States accent you can select it, there are other accents as well and they include Indian English Accent, Australian, Canadian etc. These features are quite important as they allow you to learn to pronounce words in the desired accent. To make it even more fun the developers of the game also have added the "challenge" option, which lets you challenge a friend to pronounce the word correctly. This will make you and your friends more competitive and make you take the challenges more seriously because who likes to lose?
4. Magoosh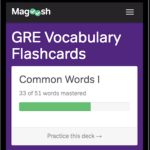 Magoosh is not a singular but rather a platform of many apps all designed to help you improve your grammar, enrich your vocab, and it also serves as a preparation for exams like TOEFL, SAT, IETLS and more. One app that stands out from the others as extra helpful is the Vocab Builder app. Its teaching philosophy is that learning a new word is one thing but being able to confidently use that word in a given context / sentence, is another thing. It truly teaches you how to use the word in a proper and meaningful way and construct sentences that are grammatically correct.
There are many levels to unlock, and as you progress, the words get more difficult. Finally, there is a Play option where you can challenge someone to see who gets more words right. That will help you spend more time with the app, and you will end up learning more words.
5. Vocabador
Vocabrador, which you can judge by its name that derives from the word vocabulary, it is an app designed to assist you in learning new words in a rather interesting interactive way. The style of the app makes it both fun and easy to comprehend new words.